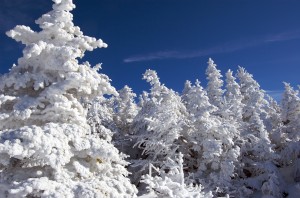 The Adirondack Region is the perfect destination for winter sports' enthusiasts & is home to winter sports traditions that span centuries. Enjoy Adirondack downhill skiing & snowboarding at some of the best alpine terrain east of the Rockies. There are countless miles of cross country skiing & snowmobile trails. Head into charming towns & villages festively decorated for the season, & take joy in simple pleasures like strolling down Main Street or join in one of the oldest & most sacred Adirondack traditions – the Winter Carnival.  Capture special moments & cherish your memories in one of the United States oldest winter vacation destinations. Whether you set out with your family or a group of friends, your only limit will be the amount of time you have to spend here. 
Skiing/Snowboarding – Downhill
Whether you are searching for huge, challenging drops, long cruisers, and skiing through the trees, bumps, and rails, or just starting out on gentle, perfectly groomed beginner terrain, or advanced trails fit for an Olympian, skiing in the Adirondacks offers some of the best conditions and trails in the state.
Whiteface Mountain Ski Center & Gondola  Welcome to Whiteface, the Olympic Mountain. We have the greatest vertical drop east of the Rockies and trails for everyone in your family. This is where the world's best come to train and compete and where kids come to learn and ha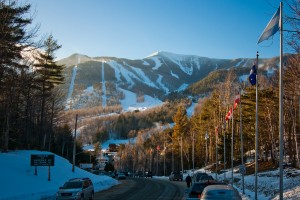 ve fun. At the top of Whiteface, spare a moment to take in the views of the surrounding Adirondack peaks of New York. Spot Lake Champlain and Vermont to the east. Breathe deep. Point your skis downhill. Let them go. This is the face of eastern skiing. Directions 
Titus Mountain Nestled in the Adirondack foothills, Titus Mountain operates a total of 10 lifts: Two 3-Passenger Chairlifts (IV & VIII), Six 2-Passenger Chairlifts & Two Handle-Tow Surface Lifts. These lifts service 27 trails & 1200 vertical feet of winter fun. Our Upper & Lower Mountain lodges offer warmth, comfort, good food & refreshing beverages. Directions
Mount Pisgah Ski This is an excellent family slope, offering well groomed trails for Beginner & Intermediate skiers in a casual atmosphere. With skiable land of 15 acres there is all forms of skiing, snowshoeing, tubing or snowboarding available. Directions
Big Tupper  Big Tupper has been one of New York's most popular ski areas. Located in Tupper Lake with a base elevation of 2000′ & a 1200′ vertical drop, Big Tupper offers a refreshing Adirondack ski season. There are presently 17 trails, from beginner to expert; the ski experience will be a refreshing alternative. Directions 
Cross Country Skiing & SnowShoeing 
Explore hidden cross country trails buried deep in the dense forest and see the splendor of nature up close! Enjoy panoramic views of sparkling lakes, untouched wildlife and beautiful scenery.  When you go cross country skiing in the Adirondacks, you'll be surrounded by a magical, natural backdrop. Discover unparalleled beauty and snowy forest trails while enjoying the winter scenery of the Adirondack Mountains. Miles upon miles of fresh snow await you!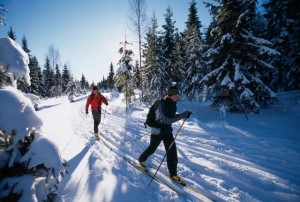 Cascade Cross Country Center  The Cascade Cross Country Center is a complete cross country ski center. The center maintains 20 kilometers of groomed and wind-protected trails for skiers of all abilities. In addition, the Olympic trails at Mt. Van Hoevenberg and the Jack Rabbit Trails connect with our trail system. 
Adirondack Cross Country Skiing With endless meadows, mountains and maintained trails, the Adirondacks are a winter wonderland for cross country skiers. Whether you're seeking backcountry adventures or groomed trails, then Adirondacks has something for beginners and experts alike. The notable 50 kilometer Jack Rabbit Trails from Keene, through Lake Placid and Saranac Lake, to Paul Smith's is a public trail that connects with four ski centers and several backcountry routes along the way—try it if you dare. 
 Franklin County Cross-Country Skiing A variety of trails meandering through serene spruce and pine forest, as well as groomed trails through rolling countryside await cross country skiers in Adirondack Lake Country.  
Snowmobiling in the Adirondacks
The Adirondack Mountains provide breathtaking views and hours of recreation riding. You'll have access to miles of free groomed and ungroomed trails. You can easily sled right from the trail to a cozy restaurant, where snowmobiles outnumber cars in the parking lot. Mostly, you will find yourself deep in the beautiful expanse of snow-blanketed forests, breathing in the beauty of the Adirondack's unspoiled wilderness. Snowmobilers staying at the Wild Goose Lodge simply have to go out the front door, accross the street and there you will find Snowmobile Main Corridor Trail #7.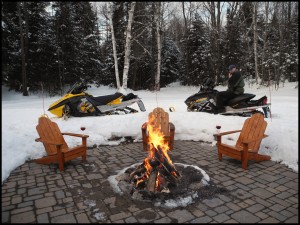 Franklin County Snowmobile Trail Map  You'll find a range of trails that wind through open snowfields and balsam and spruce-lined forests. Trail-side dining and fuel make it easy to get out in to the wild.
Lake Placid Snowmobiling   Hop on your sled and experience the thrill of one of our popular Adirondack winter activities. With hundreds of miles of groomed and backcountry trails, the Adirondacks are a famous destination for snowmobile enthusiasts. Go on an extended trip, travel through historic villages, head out for an afternoon with some friends or book an Adirondack guide service to show you some of the best sledding trails in NY. Whatever you opt for, you're guaranteed to see beautiful views, meet fellow snowmobile lovers and experience the beauty of winter in the Adirondack Region in Northern NY. 
Ice Fishing
For the hardy angler the fishing season extends into the winter on many of our waters. 
Franklin County DEC Ice Fishing Info,  Clinton County DEC Ice Fishing Info, Essex County DEC Ice Fishing Info
Things to See & Do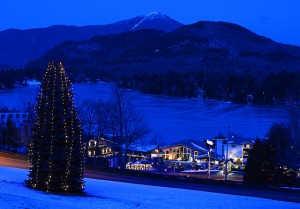 Saranac Lake Winter Events The village of Saranac Lake lies in the heart of the Adirondack Mountains of Upstate New York. In addition to being surrounded by countless beautiful mountains, lakes and rivers, Saranac Lake is a historical, cultural and artistic hub of the Adirondack region. Nestled between Tupper Lake and Lake Placid. As one of the Adirondack's premier year-round destinations, Saranac Lake is host to a variety of fantastic events.
Lake Placid Winter Events  Throughout the year, the High Peaks Region is home to a variety of unique events that celebrate the seasons and the Adirondack's diverse landscape. From outdoor challenges and friendly competitions, to arts and cultural events, to fun family activities, there is an array of featured Lake Placid events for people of all ages and interests.
First Night® 2012 Saranac Lake, December 31, 2011  Start planning your New Year's evening by consulting the First Night® schedule with its listing of entertainment, venues, and performance times. All entertainment sites are indoors.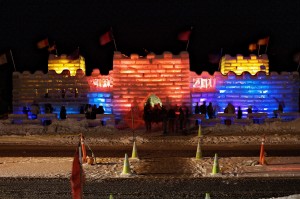 The Saranac Lake Winter Carnival, Feb. 3-12, 2012  is the longest-running event of its kind in the eastern U.S. Now celebrating its 114th anniversary, the Carnival began as a one-day event to break the monotony of the long Adirondack winter and has grown into a 10-day festival that includes sports, dances, performances, two parades and two sets of spectacular fireworks above the world-famous Ice Palace.